Upper Chetco river trip through the Kalmiopsis Wilderness, 9-14 June 2012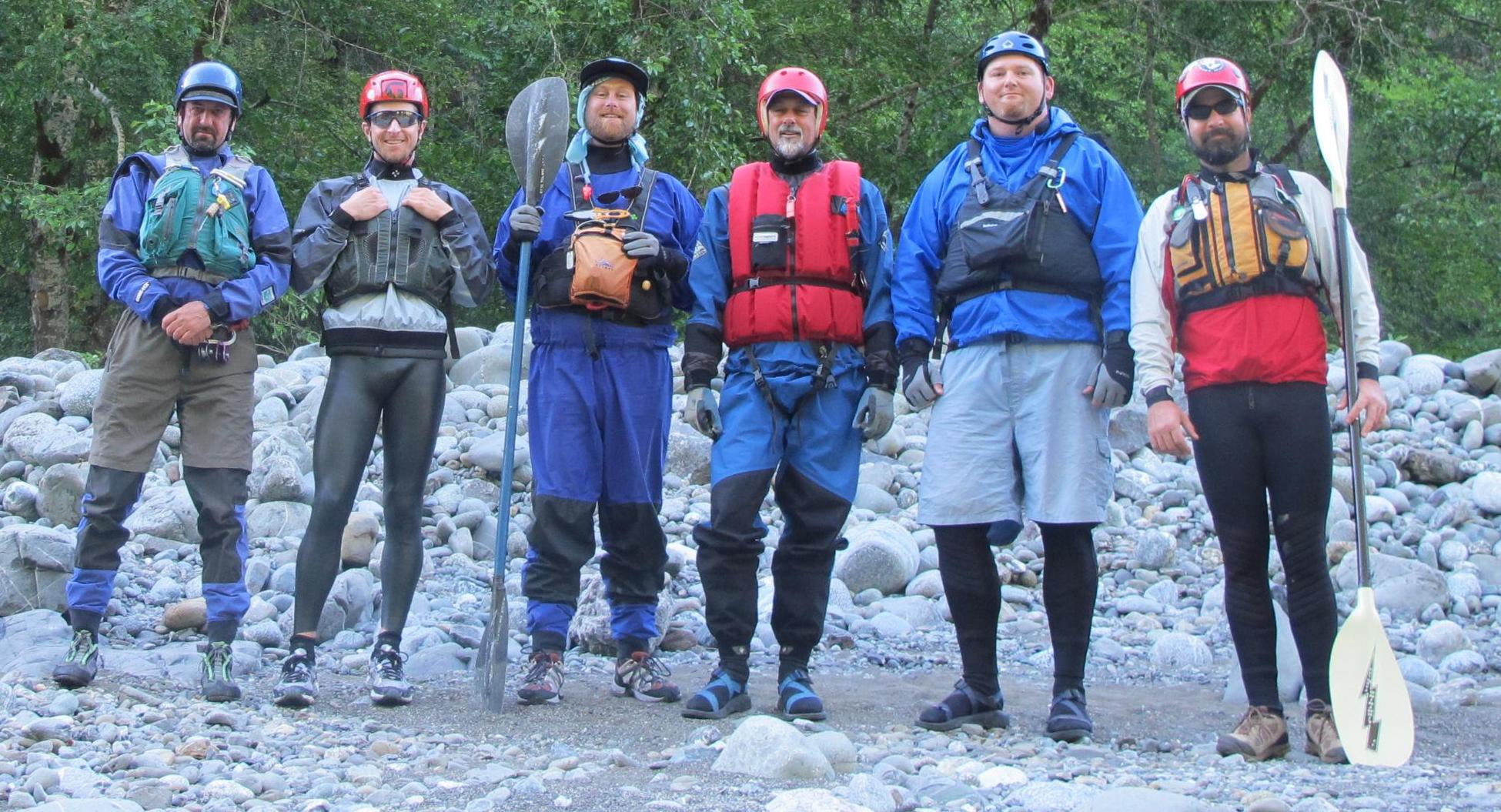 Doug Soule (CA), Eric Lubell (OR), Brian Vogt (WA), Bill Tuthill (CA), Jeff Rankins (OR), Jason Shappart (OR). Delay-timer photo by Doug Soule.
A long time ago I saw an Oregon Field Guide (OFG) episode chronicling an inflatable kayak trip on the Chetco River through the Kalmiopsis Wilderness in the extreme southwest corner of Oregon. I am not sure if I saw the first airing of the story in 2003 (actual trip was in 2002) or a latter re-broadcast. The largest fire in Oregon's modern history (500,000 acre Biscuit Fire) had torched the place during the summer of 2002 shortly after the OFG trip. I had filed the upper Chetco potential back in the nether regions of my mind, waiting for it to resurface several years latter during the greatest of seasons: the winter and early spring when future multiday trip planning ruminations start to gurgle up to the surface and discussion of potential adventures start circling amongst the countless interwoven twines of my boating compadres scattered hither and thither across the land.
I had been chatting with Brian Vogt for a few years about getting a multiday trip together. For one reason or another we hadn't been able to link up. It seemed we were of a similar mind, searching out those multiday trips on the fringe of the mainstream and a desire to find the trip of all trips, the holy grail as it where, of adventure multiday boating (for me at least, focused on the Pacific Northwest). January 2012 rolled around and emails started flying back and forth for an upcoming summer adventure. I was hot on the upper Minam River in the Eagle Cap Wilderness and started down that planning road. Then toward the end of January another OFG episode aired discussing the state of the upper Chetco today (post-Biscuit Fire). We also read a report from Zach Collier about their 2011 upper Chetco trip in primarily hard boats with one badass pack-rafter. Alas, we thought access would be very difficult because you just can't drive up to the river and shove off like so many conventional multiday trips. We thought the easiest route to any put-in on the upper Chetco involved many miles of rugged hiking and bushwhacking, such as described by Zach during their heinous approach down the Chetco Pass/Slide Creek so-called trail. The Biscuit Fire had torched and obliterated all the trails (we thought).
Some internet searching, email exchanges, and phone calls ensued to various sources that may have had some tidbits of information on upper Chetco River access. We promptly discovered a group of angels (Siskiyou Mt. Club) had recently cleared one of the trails into the upper Chetco River, starting at the Babyfoot Lake trailhead then continuing onto the Bailey Mountain trail leading down to the Chetco River at the Carter Creek confluence. As soon as this extremely important information surfaced, Brian and I were hot on the upper Chetco trip-planning-trail like a 350 pound mid-westerner to an all-you-can-eat hotdish competition. I did a little map work sleuthing and compared the previous Chetco Pass access route to the recently cleared Babyfoot Lake/Bailey Mt. trail and it was a no brainer, the Babyfoot Lake/Bailey Mt. trail was hands down the best option:
Only 1 mile longer than the Chetco Pass route, when the Chetco Pass gate is closed, which it generally is when there is enough water to float the upper Chetco.
Starts up high and avoids the 3000' elevation gain of the Chetco Pass route.
An actual cleared trail post-Biscuit Fire.
Starts 3 miles upstream from Slide Creek, where the Chetco Pass route hits the river. This upper 3 miles purportedly traverses through the Magic Canyon.
It all sounded perfect, except for 1 challenge: how do we get down the 9 mile trail with sufficient gear, boats, food etc. to spend at least 4 days of what we thought might be pretty heavy duty adventure whitewater in a very remote area; when should we plan to go; what is the lowest flow for a mostly in-boat inflatable kayak trip; and what is the whitewater like?
The purpose of this story is to answer these questions, and upfront, the bias is for a low flow inflatable kayak trip. I am purposefully going to leave out a lot of the actual on-water details. We had very little information for our trip, and the lack of information coupled with the fact that none of the six of us had ever been in there before, made for a super fun and full-value adventure. I hope to provide a reader with enough information to help get a group to the river and give a little information on the general character and difficulty of the river in hopes that other folks too can have a similar adventure of the sort that is becoming all too scarce in the northwest multiday boating scene, where every rapid, camp, lines at low and high water, etc. make having a true adventure in the pioneering sense, a scarce commodity these days. Not that the classic other well known trips aren't fun an enjoyable, but an upper Chetco River trip is a completely different animal, and should be enjoyed for its wild unknown character.
Access. There are potentially three ways that I am aware that may get you into the upper Chetco with enough gear to run the river: 1. Drive over the low-water ford on the Illinois River up to Chetco Pass and hike down to Slide Creek; 2. Hike up to Chetco Pass because the gate is closed and then drop down to Slide Creek; or 3. Hike in on the Babyfoot Lake/Bailey Mt. trail to Carter Creek.
If you are a badass packrafter and can carry everything on your back for a 4 day+ trip on a 9 mile trail, then you can take any route. However, you should hike in on the Babyfoot Lake/Bailey Mt. trail/Carter Creek put-in instead of the Chetco Pass/Slide Creek put-in because you really do not want to miss the Magic Canyon that is in the 3 mile stretch between Carter Creek and Slide Creek. This bears repeating: you really do not want to miss the Magic Canyon. If you ever do track down anyone that advises the Slide Creek put-in over the Carter Creek put-in, this person has not been in the Magic Canyon, period, and should not be trusted what-so-ever and is probably a hard boater. ;-)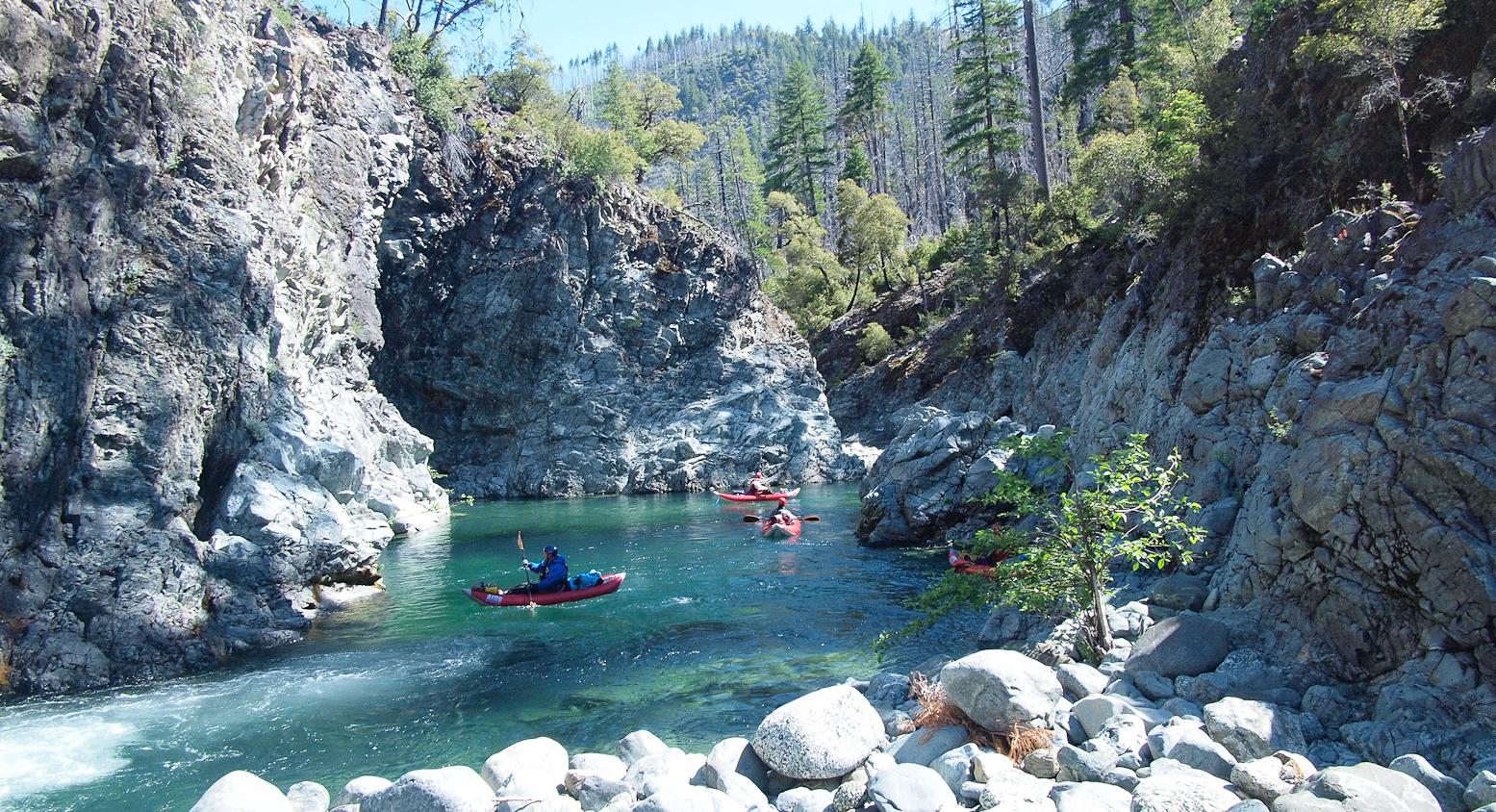 The Magic Canyon should not be missed. Photo by Brian Vogt.
If you are not Hoss Cartwright and can't carry 75 pounds for 9 miles, and you are not a badass packrafter, how do you get you and your boating stuff down to the Carter Creek put-in? Simply, you must find some equine friends to pack your boats. Finding some equine friends was the most challenging part of our trip planning. To not bore you with details on the complete and utter incompetence of the Forest Service in keeping track of records for horse-packing outfitters that have a current special use permit to provide services for pay in the area in question, just call the packer we found. It took me several weeks to locate a packer that knew the area; had been in there on horses; had a current special use permit so we could legally pay for the packing service; and that had even kayaked the river to boot! You read that right, I actually found a packer that had kayaked the upper Chetco pre-Biscuit Fire and camped in there for a month!
The Babyfoot Lake/Bailey Mt. trail was still in rough shape after being "cleared" by the Siskiyou Mt. Club in 2011. The 9 mile trail traverses through an area that is basically near 100% burned with standing dead timber along nearly all the trail, the understory being dominated by rhododendrons and azaleas in several places, which were in bloom on our hike in! Future access problems will continue as substantial blow down will be encountered every year, and with the government budget crisis, big brother won't be spending our tax dollars wisely and clearing this trail on a yearly basis. We will have to rely on the Siskiyou Mt. Club to step up. Let's all pass on drinking a few pints of tasty adult beverage and send these buck-saw-carrying, hoe-dad humping folks a few dollars to help support the trail work. Better yet, let's see if we can get a trip together for a long tail work service weekend early next year after the snow melts? I understand they have a hard time retaining first-time volunteers for additional work trips due to the rugged nature of the work. Any potential volunteers out there?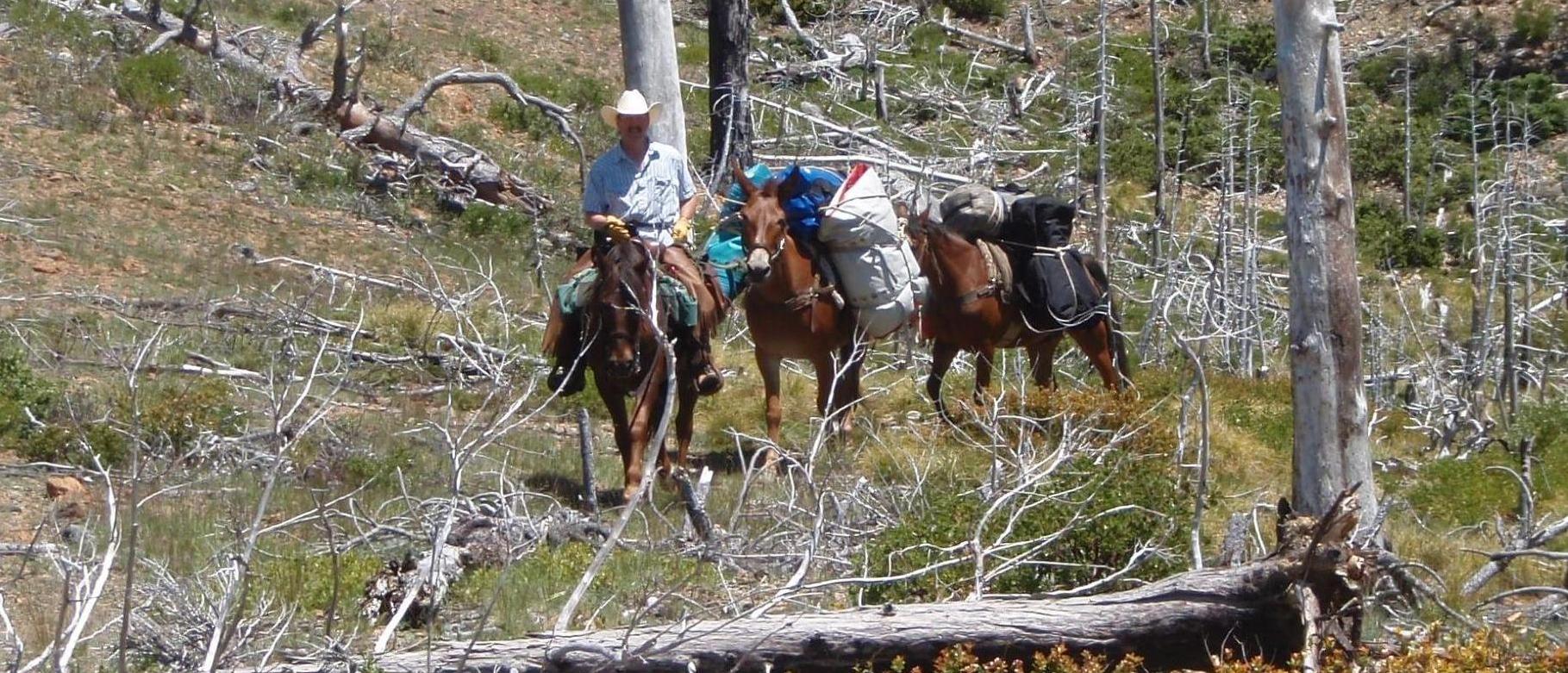 Mike Peirce and his fabulous equines. Photo by Eric Lubell.
The bottom line is that you need to get on the horn with Mike Peirce of Sourdough Camp trail Rides (541-660-0761, clrh2o@hughes.net) and I am sure he will treat you right. Mike is interested in providing pack services to small groups of kayakers in the future. Due to camp size and to limit impact on the environment, I would suggest that your trip be 6 people or less, which also makes Mike's work doable with just him. He wouldn't need another packer and a bunch more animals. Mike actually made two rides in prior to the day we packed in to clear some of the worst blow-down for the horses, and we had a little more clearing to do on the way in. Mike is a great guy and horseman, and I can't say enough good things about him and his pack stock. However, the trail is still rough and overgrown in many places. Pants are a good idea for the hike in, although Bill styled it fairly easily in a 1 piece long-underwear union suit and Chacos.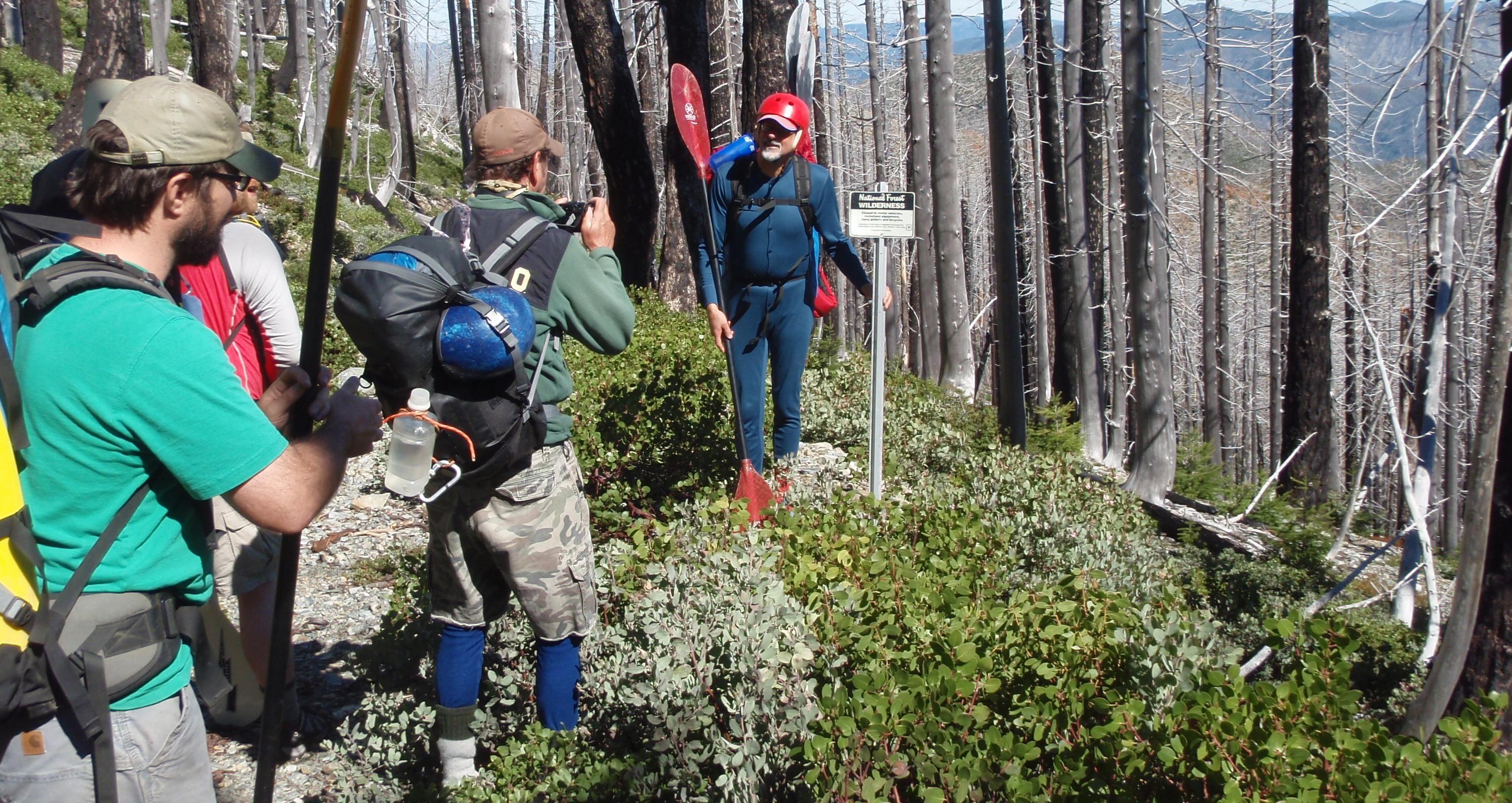 Bill speechifying at the Kalmiopsis Wilderness boundary in his union suit and Chacos. Photo by Eric Lubell.
The trail stats:
Babyfoot Lake trail starts at about 4,200 feet elevation, and there is a toilet and suitable bivy sites at the trailhead.
High point is at about 4,800 feet elevation along the trail to the Chetco.
Carter Creek confluence put-in is at about 1,400 feet elevation.
The last 2 miles of the trail drop about 2,000 feet in elevation down to Carter Creek confluence after climbing then dropping over the saddle from Bailey Mt. Cabin site.
The Bailey Mt. Cabin site is about the only good water source to re-supply your water bottle on the hike in.
Hike in early, there isn't a lot of shade!
Total distance from Babyfoot Lake trailhead to Carter Creek is about 9.0 miles.
Great camp spot above the river on a high bench at the Carter Creek Confluence.
Multiple take-out locations exist. We took out at the Steel Bridge, which is about 25.6 miles downstream of the Carter Creek confluence. About a ½ mile downstream of the Steel Bridge are 2 significant rapids named Conehead and Candycane, reported to be Class V, followed by the lower Chetco Gorge, which I understand is a great overnight trip in its own right, and never gets too low to scrape down in an IK. The Steel Bridge is accessed by traveling to Brookings (OR) at the mouth of the Chetco on the Pacific Ocean, then heading up river on the North Bank Chetco River Road. The Babyfoot Lake/Bailey Mt. trailhead is accessed via the 8 Dollar Road off Highway 199 about 3 miles south of Selma (OR). The shuttle distance between these two points is about 4.5 hours round (longer if you don't have a map and get a little lost like we did). The famous Bearfoot Brad, in Gaske (CA), who provides shuttles on the stellar Smith River (CA), can provide an upper Chetco shuttle, but he was having major surgery during our trip and we had to do our own shuttle.

What is the minimum flow for an IK trip and when does it occur?

There is only one river gage on the Chetco that I am aware of and it is on the lower mainstem. I do a lot of hydrologic analysis for my profession and tried to get a good sense of when flows occur and how they might relate to flows on the Upper Chetco. The only real reference we had to judge an appropriate flow was that the 2002 OFG trip occurred at about 250 cfs or so on the Lower Chetco gage. Zach's 2011 trip occurred around the 1,350 cfs range, a little higher than we wanted for a first trip. The video clips from the OFG episode seem too low for a mostly "in-boat" trip. After reviewing the historical gage data, I made a WAG and planned our trip for June 9th to 14th, based on the assumption of a somewhat lower than average snowpack and shooting for a flow below 1,000 cfs but higher than 250 cfs.

Turns out the snowpack was o.k. this year, but the gage readings were totally messed up. The gage is located in a bad location, with a lot of gravel bar along the river cross section. Without getting to technical, the reliability of the gage is not good and the gage rating was re-adjusted by the USGS a few days before out trip. We thought we had plenty of water until after the re-adjustment, which dropped the reported flows in half! We were looking at a trip most likely in the sub-500 to 300 cfs range. Turns out, the gage was reporting a river flow of starting at 475 and descending down to 375 cfs during our trip. We all thought after our trip this flow range was probably the lowest we would repeat the trip at (starting at Carter Creek at a flow of 475), although we did get stuck a few times and had to do a little dragging. I would 100% do it again at this flow, a little more water would have been nice, but definitely not lower. Of note, 5 of us were in single Aire Lynx IKs and 1 had a single Sotar, which was heavier, and the heavier boat seamed to get stuck more often even though it was driven by a skilled paddler.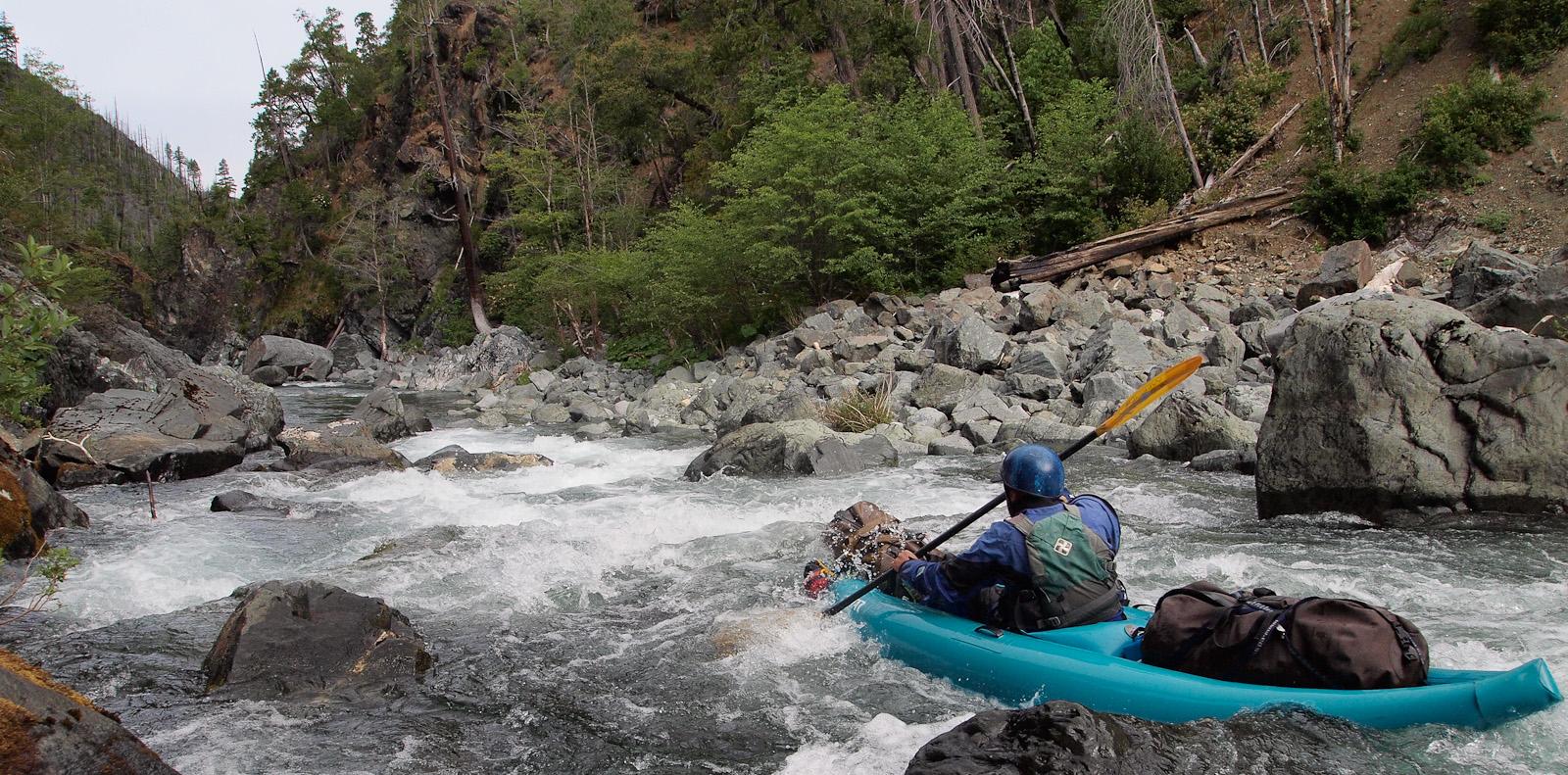 Doug paddles a low flow technical boulder garden. Photo by Brian Vogt.
Late May into early to mid-June seems to be the sweet spot for this lower level flow looking at the historical data. I personally wouldn't want to be in there when the river was much over 1,000 cfs and especially not on a first trip. The river can rise quickly to death defying flows after a rainstorm, so beware, the high water line is way up on those rock walls!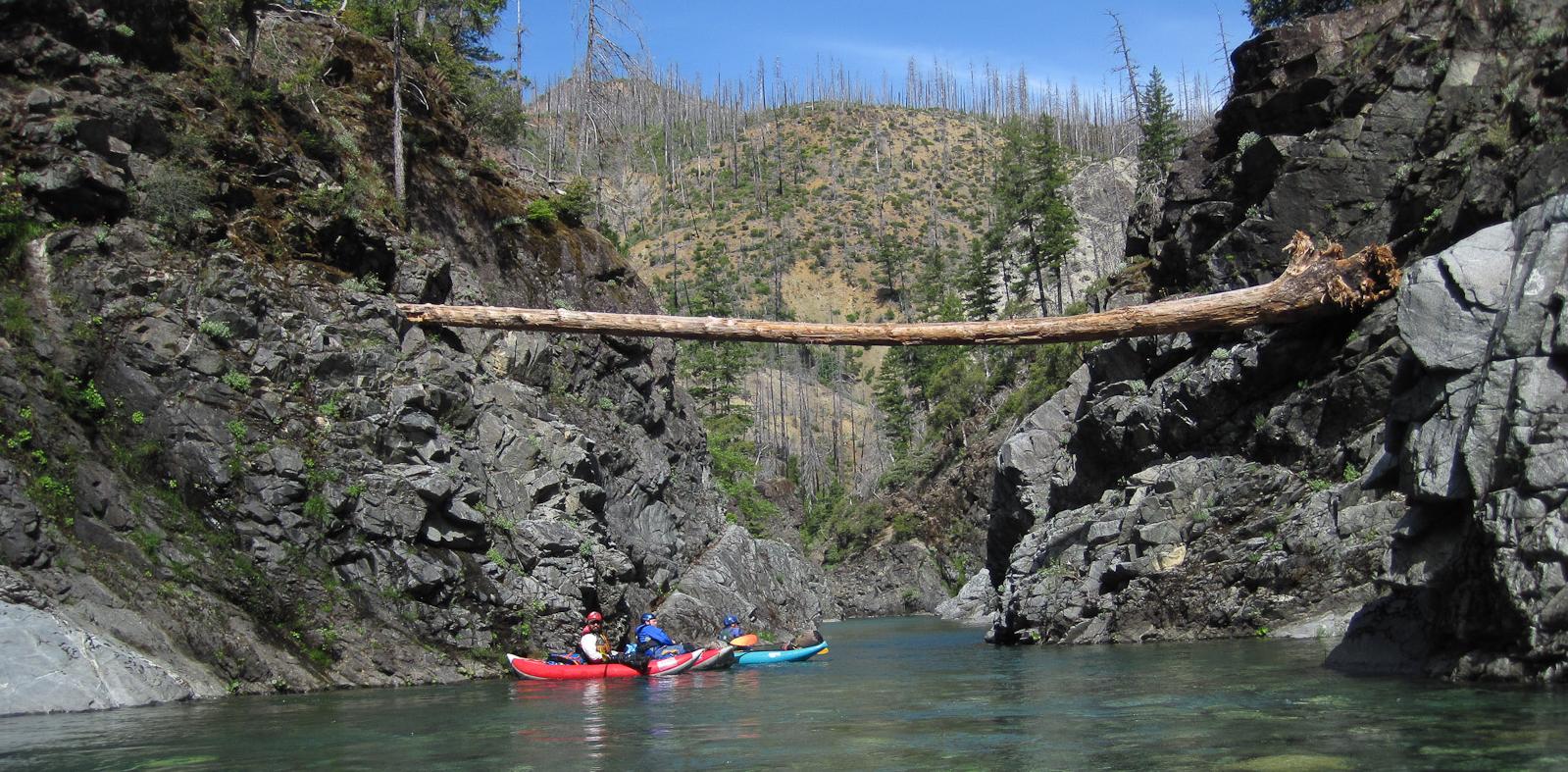 High water line spanning log, wow! Photo by Brian Vogt.
River Character. The river has a classic pool-drop character in a steep, confined, rugged canyon. The water clarity is un-real, beautiful emerald green crystal clear. The scenery is excellent. The whitewater is full value and seemingly never ends, with some breaks just when you need them. I can't advise at all on what the river character would be at higher flows, but at the lower flows we encountered, the hardest whitewater was IV+, with at least 1 mandatory portage, a few partial portages and some lining. There is also a ton of old growth poison oak.

Full portage of steep boulder cascade with nasty undercut along upper end of rock wall on river left and nasty sieve at the bottom. Photo by Brian Vogt.
There were somewhere in the neighborhood of 150 +/- rapids in the Class III to IV range, with maybe 25% Class IV, being primarily steep technical long boulder garden drops. Class IV was most concentrated in the Slide Creek to Granite Creek area, but scattered thought the run in ample supply. The last big rapid before our takeout at the Steel Bridge was a long Class IV.

Scouting the final Class IV above Steel Bridge take-out. Photo by Brian Vogt.
A 4 day trip on the water at lower flows to accommodate scouting time, etc. is a great schedule. At higher water in the above 1,000 cfs range, Zach reported if you see a place to camp, you shouldn't pass it up. All I will say is that there is a lot of scouting to be done of long blind boulder drops, especially between Slide Creek to Granite Creek. Allow plenty of time for this section, but scouting will be done at many places along the entire trip. Although a lot of scouting needs to be done, the scouts were all fairly easy. Although wood was not a problem, there are a number of nasty sieve hazards at low water. The gradient profile below shows the steep goodness between Slide and Granite creeks.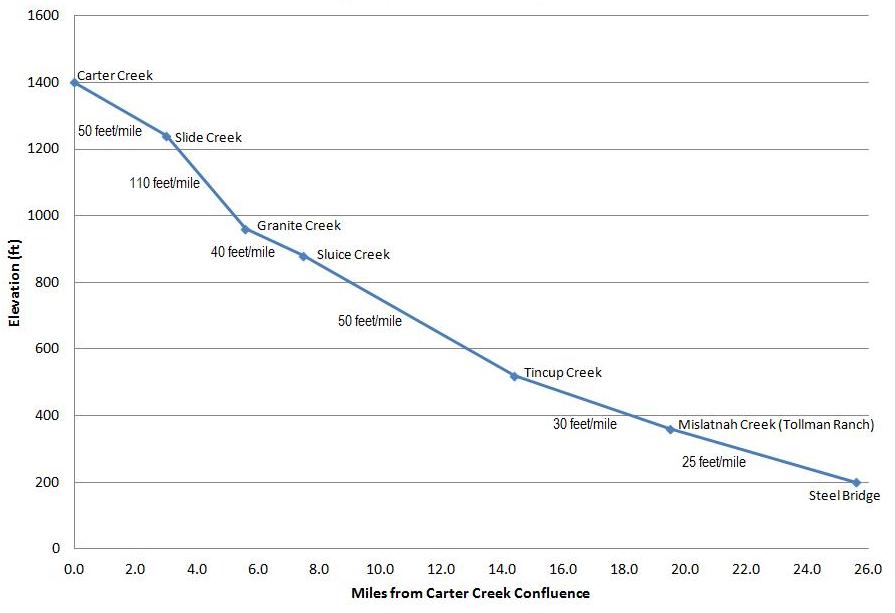 Upper Chetco profile determined by USGS 7.5 minute quad elevations at major tributary junctions.
Brian Vogt has a good story and photos of our trip on his Riverlog blog.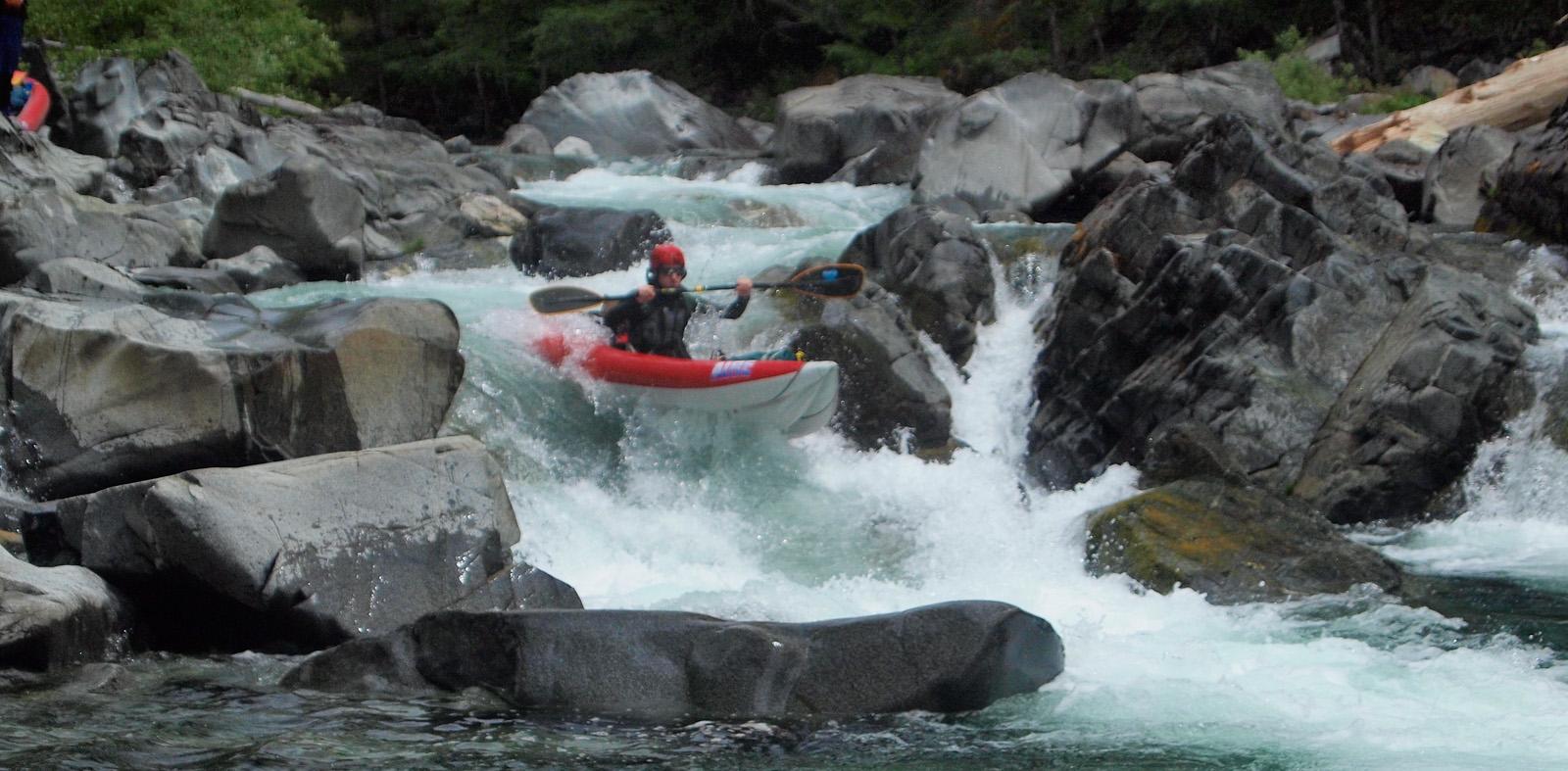 Eric boofs the exit on a steep boulder drop. Photo by Brian Vogt.
I mentioned earlier of the continued search for the holy grail of multiday boating in the Pacific Northwest. The upper Chetco River is the closest I have come yet to finding it. Coupling the upper Chetco River (Carter Creek to the Steel Bridge), with the lower Chetco Gorge (Steel Bridge to the South Fork Chetco confluence) could be the river-time path to enlightenment.

Jason enjoys the exit on a long technical boulder drop. Photo by Bill Tuthill.
SYOTR! -Jason Shappart in Forest Grove Oregon.